On September 4, Haikou City Government-Enterprises Exchange Symposium successfully took place at the E-commerce Industrial Park of Haikou Comprehensive Bonded Area. Centering on the theme "Opportunities and Challenges of the Logistics Industry amid Development of Free Trade Port", this symposium discussed about the new path for the development of logistics industry against the backdrop of free trade port.
It is worth saying that senior executives of the municipal government of Haikou City, Haikou Comprehensive Bonded Area, Haikou National High-tech Industrial Development Zone, Haikou Jiangdong New Area Administration, Haikou Guilinyang Development Zone, Haikou Transportation and Port & Shipping Administration, and Haikou Investment Promotion Bureau, etc. were present at the symposium that was attended by more than 30 logistics enterprises (including CSIC (Hainan) Engineering Co., Ltd., Kerry EAS Logistics, and Nippon Express (China) Co., Ltd.) and chaired by Liu Dan, deputy head of the Investment Promotion Department of Haikou Investment Promotion Bureau.
At the symposium, Shen Jiben, vice mayor of the People's Government of Haikou City, gave a detailed account of Haikou City's development opportunities. According to Vice Mayor Shen, Haikou City not only enjoys remarkable geographical superiority and first-rate ecological environment, but also boasts the favorable business environment, so that investment here is more convenient and unconstrained. Shen Jiben stressed that amid development of the free trade port, Haikou will put in place its new measures featuring interlinkage, integration, and high efficiency by phase and by region in different respects like trade, investment, cross-border capital flow, personnel inflow/outflow, free transportation, and cross-border and convenient data flow, so that its potential for opening-up is immense. Modern logistics is a critical hub that promotes the transformation of Haikou from local portal to national portal and then to international portal, and it plays a pivotal role in development of free trade port. Logistics enterprises present are expected to actively make investment in Haikou to share the new opportunities from development of modern logistics industry of the free trade port, Shen Jiben was quoted as saying.
After that, Vice Director-general of Haikou Transportation and Port & Shipping Administration Wu Luling, and Chairman of Hainan Traffic Logistics Association Feng Xueci gave speeches at the symposium in succession, and Wang Xiaozhuang, the leader of Luoniushan Cold Chain Logistics Park Project, made the park promotion.
In the presence of leaders and guests at the symposium, Hainan Luoniushan Food Group Co., Ltd. and other companies like Tianjin Jiatong Anji Supply Chain Co., Ltd. reached intention of cooperation on multiple projects like "JD Cloud Warehouse", as well as signed the contract on site. That brings new vigor for Haikou transportation sector.
Meanwhile, enterprises present at the symposium had further discussion on investment promotion projects, investment expectations, and development suggestions, and relevant departments gave detailed replies on questions from the enterprises. At the meeting node for exchange, Liu Dan, deputy head of the Investment Promotion Department of Haikou Investment Promotion Bureau, said that Haikou Investment Promotion Bureau will greet all enterprises with the greatest passion, the optimal services, and the best environment, and we will keep on improving the business environment to provide strong support for the enterprises' long-term development, as well as do well the enterprise services.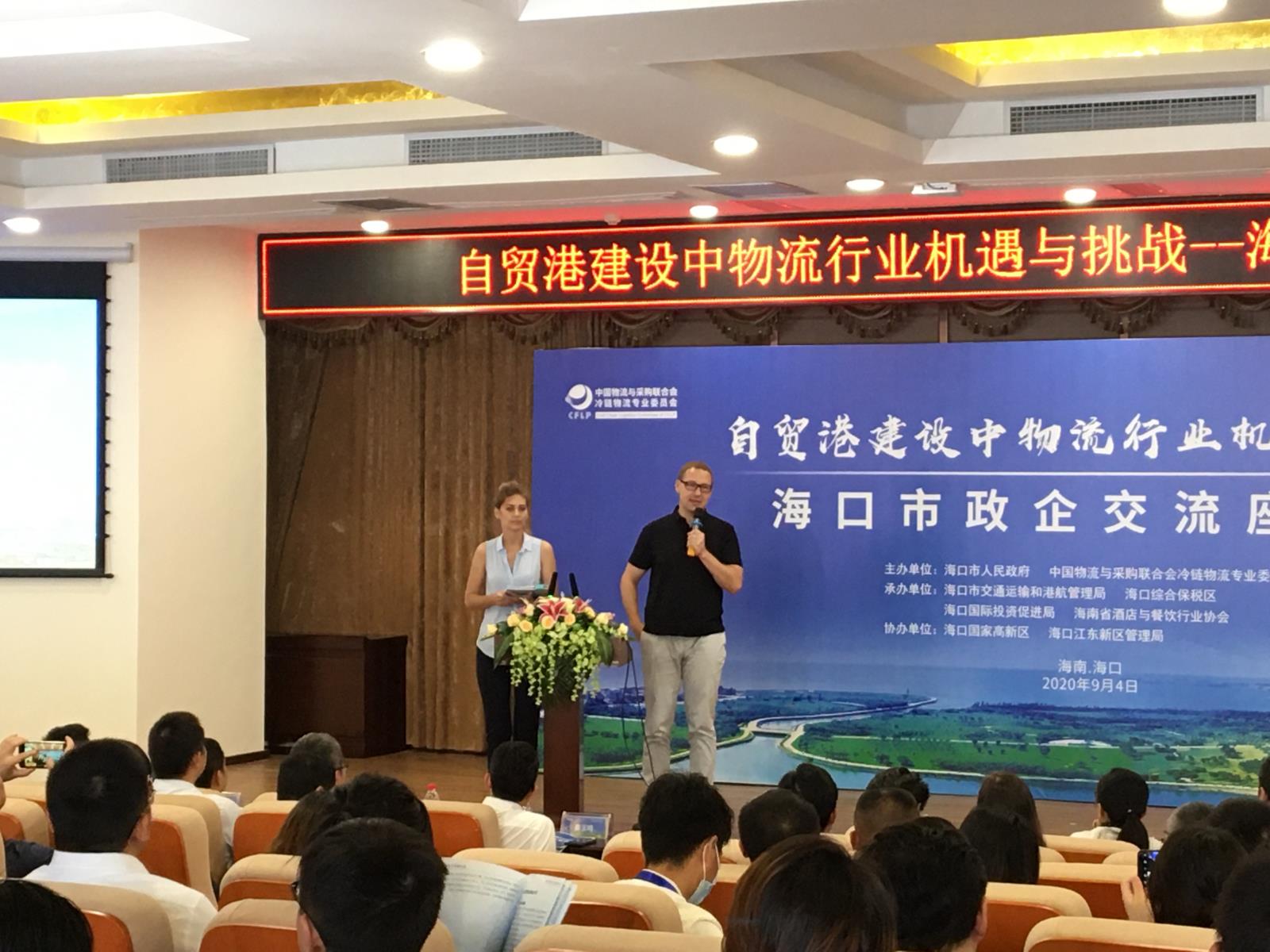 By taking advantage of this symposium, Haikou City will work with domestic and overseas famous logistics enterprises to keep on making explorations and innovations bravely, seize the new opportunities, and serve as the pacesetter, in order to assume the responsibilities in the new era and write a brand-new chapter for development of Haikou modern logistics industry. (End)